Assalamualaikum ,
For the past five weeks I've been attending a short course called Pre-medicine in USA (UiTM Shah Alam..haha). So basically, the main objective of this course is to expose the students to the medical field. This entry is very useful for the junior that will be offer to attend this pre-med course ( I know you gonna read this!! haha).
Let me summaries what happened during the 5 weeks course:-
1. You will learn three subjects (anatomy , biochemistry and physiology).
2. You will get a module guide (timetable)
The module guide
3. ECE visit (Early Clinical exposure)
-You will be visiting Hospital Sg. Buloh , Hospital Selayang and Klinik Kesihatan Tmn Ehsan/Sg. Buloh.
-You will stand a chance to see the real life of a doctor and don't forget to ask around.
Hospital Sg. Buloh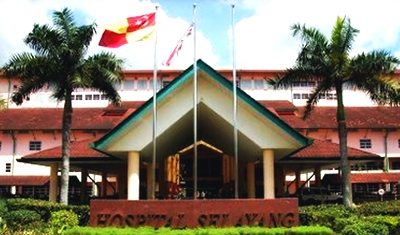 Hospital Selayang
4. There will be three test at the end of this course. (oh no!!! not the test~~~)
Student Assessment
My Table~~
a) OSPE exam :-
-OSPE exam is an exam where there are 14 station in a lab and you must go through this station and answer each question in every station. So it's kinda like walking around the lab during your practical.
-10 stations will have a question where as the other 4 stations you just have to relax because it's the REST station.
-oh..and don't forget to bring your lab coat and your matrix card.
Matrix card
b) MCQ (Mutiple Choice Question) :-
- The will be 30 question with 5 sub-questions.
-one correct answer you will get 1 mark. wrong answer will be deducted by 1/2 mark.
-the trick is simple if you don't know the answer , just leave it blank..(Hahhahaha) but seriously! Leave it blank or else if you answer it wrongly you lose half mark. So it's either you answer it or don't ! Understand?
"Example"
c) SAQ (Short Answer Question) :-
-there will be 3 questions.Answer it all. (30 marks)
-it's kinda like subjective essay question.
-eg: Describe the metabolism of bilirubin. (10 marks)
5. Enjoy !!!!!!!!!!!!!!!!!!!!!!!!!! (seriously just enjoy it..you can go to the Pusat Sukan UiTM in the evening to play)
6. Don't worry about the exam because it's just the beginning of your five years in med school.(It's an exposure by the way)
7. By the way , If you already got invited to this course that means you're 99.9 % in the faculty but you need to pass the exam at least to get the edge against others. Good luck !!! :D
All the best !!!
p/s : hope this post will help the junior that will be attending this course in the future . (teehee)
p/s II : hopefully I'll get the chance to enter med faculty in UiTM this coming september~~


p/s III : If you become my junior don't forget to say "Hi" . LOL